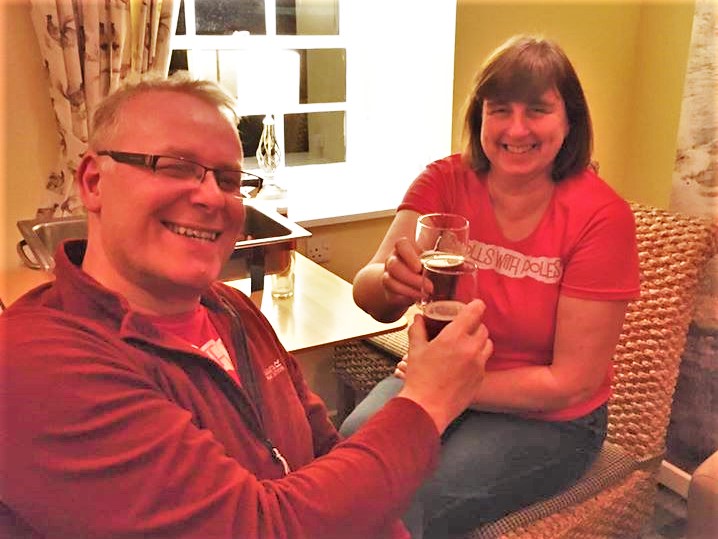 Recently, I was lucky enough to be invited to a beer and pie night. North Northumberland Tourism Association (NNTA) and the Cheviot Brewery hosted this. Two of my favourite things are beer and pies, so I wouldn't turn down an opportunity like this.
The only trouble was that it was in the Black Bull in Etal. Nothing wrong with the pub or the place. Both are great. The village is one of the prettiest in Northumberland and the pub is warm and welcoming. The problem was that I live in Gateshead.
Julie, my other half, kindly gave me a lift. We arrived around 7:30pm and were welcomed by Forest, the Chair of NNTA. Soon after, Johnny from the Brewery turned up with the first beer sample.
Upland Ale
The first sample was the Upland Ale. Customers had been complaining that they couldn't get a traditional bitter anymore, only IPAs. This ale was the response. Well this definitely fills the criteria for a good traditional English bitter. Malty and hoppy in just the right proportions and very nice.
The chicken, smoked bacon and chives pie had the Upland Ale in it. What a lovely balanced flavour this pie had. My personal favourite.
Trig Point
The next one to come out was Trig Point. This is a more hoppy pale ale. I'm not normally a pale ale drinker. But this ale wasn't the often over-hopped versions that are commonplace these days. So, whilst not really my sort of thing, it was very pleasant.
This was used in the cheese and herb pie. I'm told, by the vegetarians present, that it was delicious. Unfortunately, I didn't get to taste this one.
Black Hag
The third sample arrived. There had to be a stout of course, and this one was Black Hag. Named after the black peaty stuff encountered high up in the Cheviots, it is black as it's name suggests. However, it is rich and smooth. A very pleasant stout indeed.
A stout always goes well with steak and ale. So, Black Hag was used in those. I find that simple is best with a good steak and ale pie and these were certainly that. A good quality steak with a rich gravy. A very close second to the chicken, smoked bacon and chives one.
ETale
The fourth and final sample was Etale. Developed specially for the Black Bull at Etal and names Black Bull Etale, it is a dark bitter. This is an award winning ale, having won Best Beer (up to 4%) in the Bradford CAMRA Beer Festival 2020. The one we tried had a very pleasant livelyness, apparently a result of bottle conditioning. Definitely my kind of beer.
Etale was used in the smoked haddock and spinach. This was gorgeous. More a meal in itself and I could have eaten a plateful.
Cheviot Brewery
The Cheviot Brewery are planning on having a pie and beer menu at the Black Bull. If the pub was closer to me, it would be a roaring success, as I'd be buying them at every opportunity. But I'm sure that they won't need me do well with this. They are also hoping to open a tap room at the brewery.
---