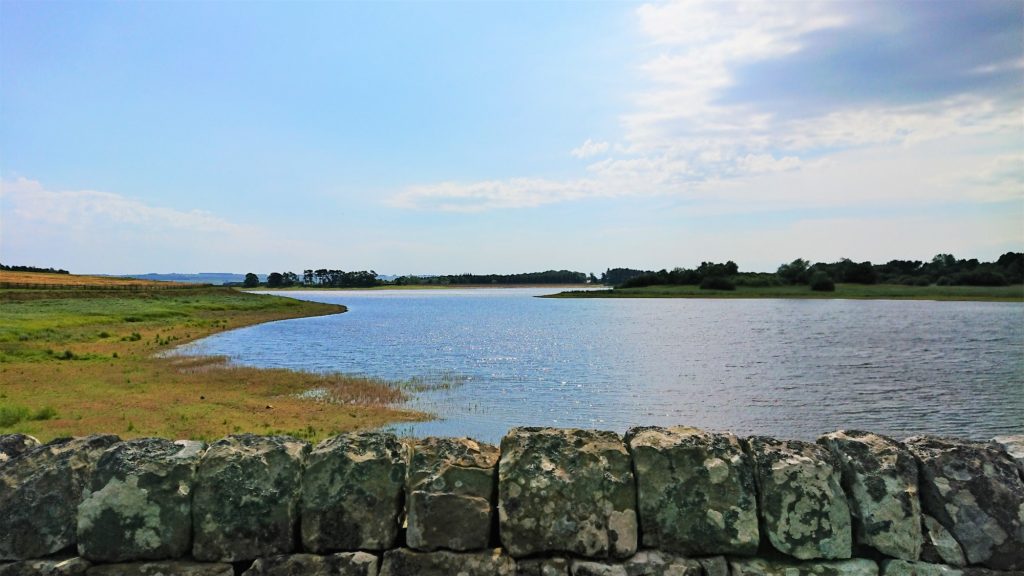 The last Friday in July was a beautiful day. So, I decided to take a walk around Hallington and Colt Crag Reservoirs. I was rewarded with a gorgeous and varied walk, in an area that I haven't visited before.
Friday morning
I woke up and looked out of the window. The weather looked amazing and it was beckoning me out. I had a few jobs to do first and had to think about where I was going to go to.
So, having dispatched my packages for my baking business, I set to thinking of a place to go. Julie and I had driven around the area west of Capheaton, exploring potential walks. So, I knew that there were several reservoirs there. I wondered if there was a walk, in that area, that would allow me to take in the reservoirs. After a bit of searching, I'd found very little of use. I decided to make it up. I opened the OS Maps App and started planning. Just following rights of way and a few roads, I could get a circular route of 10 to 11 miles. Time to try it.
Traffic
I hadn't accounted for it being a Friday and a forecast of a good weather weekend. So, I had to battle with traffic to get to the starting point, at Colwell, a small village close to the A68. I got there eventually though. There's plenty of parking on the grass verge by the bus stop.
Colwell
What to put in the rucksack, I thought. The essentials obviously, but would I really need a fleece on a day that was already at 28 degrees. I wasn't going into the hills after all. The fleece wasn't coming but the flask, lunch, water, binoculars, camera, hat and sunglasses definitely were. Packed up and off.
The first part was easy. Cross the B6342 and head up to Liddell Hall. The whole route doesn't get much above 200m above sea level and the start is at 150m. Even at this relatively low level, the views south and west are uninterrupted and outstanding.
Liddell Hall
Next to Liddell Hall, the track continues on towards Hallington Reservoir. There is a path round the reservoir, but I wasn't going that way. Instead I took a path round the front of the Hall.
This path crosses grassy fields, filled with grazing sheep. Many of the sheep still had lambs, although they weren't the cute little lambs from earlier in the year. These were chunky mature lambs. They were still suckling and I had to pity the ewes, that weren't much bigger than them.
The walking was easy and an absolute pleasure on a warm sunny day like this. The view was now fields and the hills of Ingoe Moor in the distance. There was one gate that I couldn't figure out though, which had been tied with twine and chain. It was on the right of way, so I assume there must have been an easy way to untie it. Climbing over it looked to be an easier option. Over I went and onward.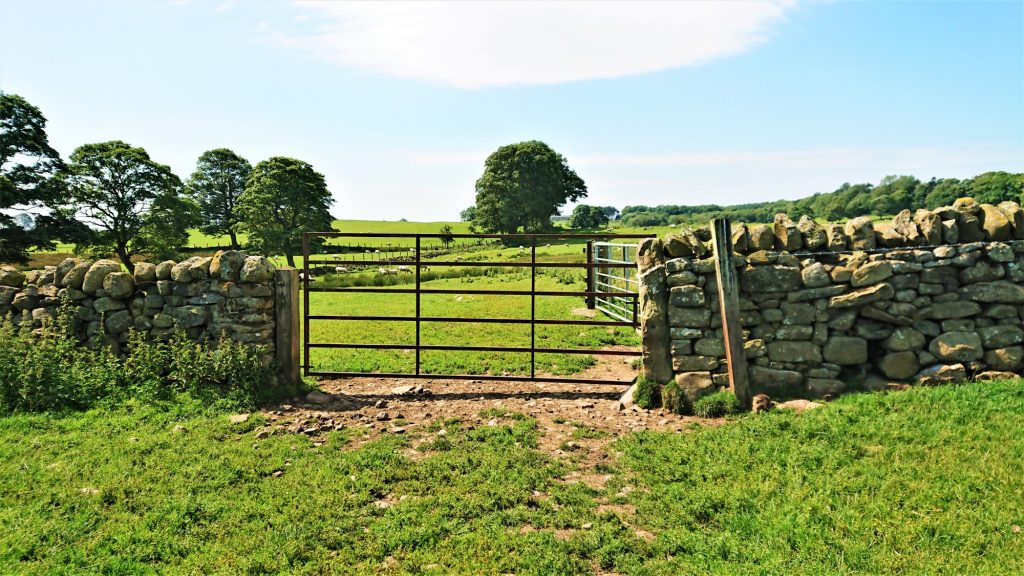 Hallington
Eventually, the path crosses an access road to Whiteside Law and then heads down towards Hallington burn. The lovely path deteriorates a little here but not too badly. It's a bit overgrown, with a few nettles, but the scents of wild flowers make up for it. The meadowsweet was in bloom and the aroma was wonderful.
I followed the path to the burn and, for a moment, thought I'd have to ford it. Luckily, I thought that there must be an easier way and looked to my right. A couple of wooden railway sleepers made a decent bridge. No wet feet today.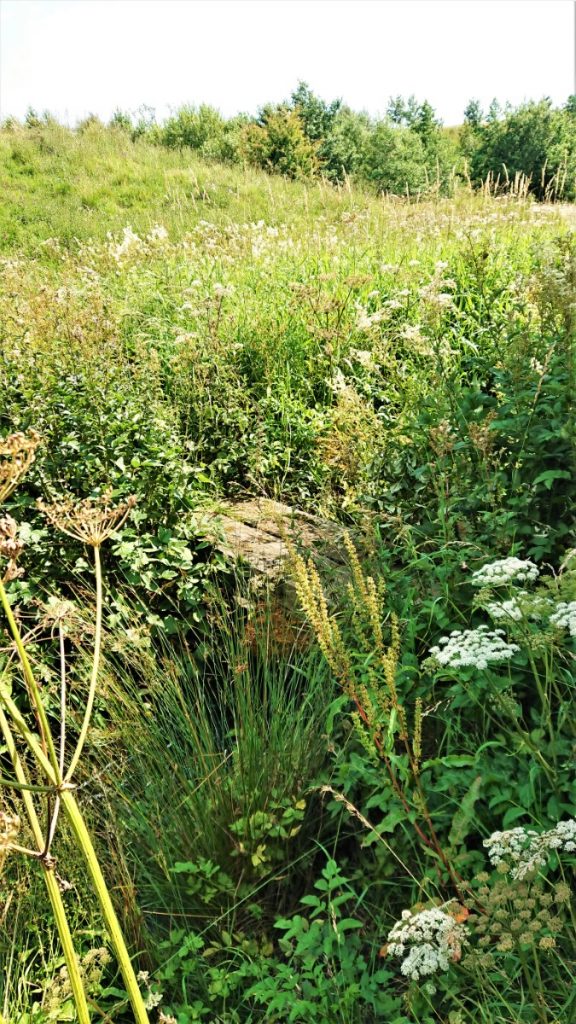 A little further on, the path opened on to the road through Hallington. This was the next section of the route. Heading up towards the village, I passed a field. I was feeling pretty warm by this point, but the sheep in the field here had the equivalent of a chunky knit sweater on. How warm would they be.

As I strolled through the village I caught the strong scent of roses. A little further on and there they were. In a garden there was a beautiful tall rose tree, in full bloom. The roses were a deep red and had the appearance of velvet. In my opinion, there's little better in a garden than a beautiful rose with a sweet scent. Wish I'd taken a photograph.
Whittledean Watercourse
On the way out of the village, I passed over what looked like a canal. It had a man-made look about it. I vaguely remembered that there was a channel carrying water from Hallington Reservoir to Whittle Dene Reservoir. The Whittle Dene (or Whittledean) Watercourse was originally built in the 19th century, to collect water from local streams and transport it to Whittle Dene Reservoir. It later formed part of the network of reservoirs, including Colt Crag and Hallington.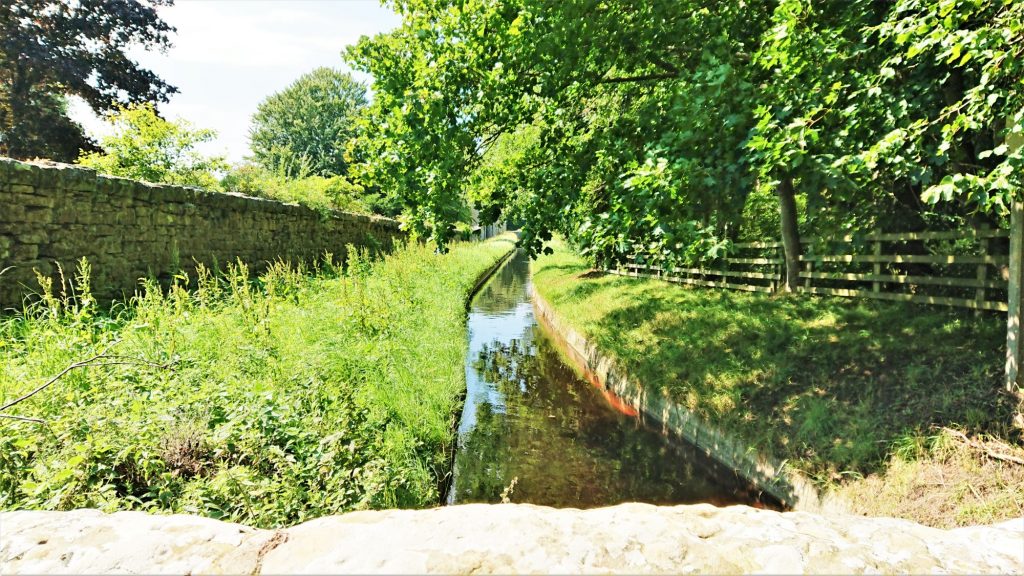 The road from Hallington to Carrier's Lane is very pleasant. Just enough shade to be comfortable and pretty flat. I also got my first taste of the day of wild raspberries. Very sweet and plenty more on the way.
Hallington Reservoir
Close to Cheviot Farm I turned on to Carrier's Lane. There were a few flies here, so I knew there were animals. No surprise that there was a cow standing right on the path. She wasn't any problem though and I descended towards the bridge over Hallington Reservoir East. In the distance I could see where the channel from Little Swinburne Reservoir joins Hallington West Reservoir. Whilst the reservoir looked low, the water from the channel was flowing fast and foaming as it tumbled in.
Carrying on along Carrier's Lane, the route was getting a little exposed and the sun was still high. It felt like it was getting warmer or maybe it was just me. I continued up to where I crossed the B6342. I was looking for somewhere to rest for lunch, wishing I had taken the opportunity back at the reservoir. A little area of raised ground looked perfect, so I sat down and started lunch. It was a decent enough spot. But, eventually the horse flies found me and I had to move on.
Little Swinburne
On this bit the lane had been paved at some point in the past, so the going was really easy. The scenery varied when I reached Little Swinburne. There is a farm here now but the evidence of earlier occupation is everywhere. Especially, in the tower, of which a large portion still remains.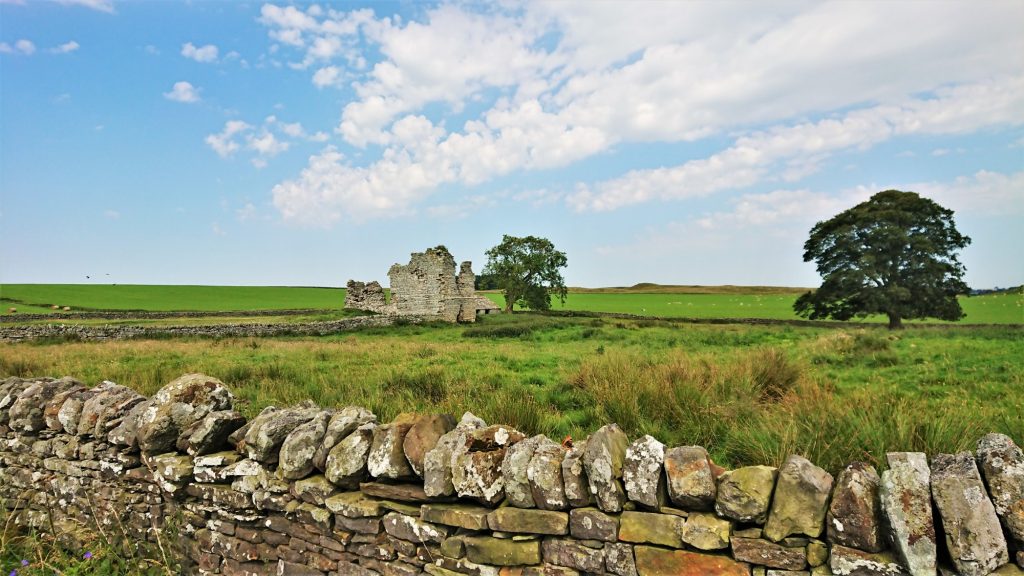 The walk up the lane to Short Knowes, an abandoned farm, is very pleasant. More wild raspberries and plenty of wild flowers.
Colt Crag Reservoir
A little further on, I turned towards Colt Crag Reservoir. After crossing two fields, I arrived at the dam and some welcome shade. Another beautiful view, even though the water was low.
Continuing around the reservoir, the path along the southern edge of the reservoir was through some woods. It still gave some great opportunities to see the water.
Great Swinburn
The route back required me to cross the A68 with care. I managed that and then had to negotiate a rather indistinct path across a field, before reaching a road near Barrasford Park. I followed this road back towards the A1 before heading down an old lane to Great Swinburne. A buzzard flew very low and gave me a great view of the patterns on its wings.
Great Swinburne is a pretty little village, with a few interesting features. On the way in, there is an 18th century tithe barn. This structure is Grade II listed. The tall arched windows look odd on such a simple building.
Another interesting building is the church. It as built in the 19th century but looks older. This is St Mary's RC church.
There was also a castle here too, although much of this was demolished in the 17th century and replaced by another building, which is now Grade II listed. A more modern house is now attached to the older house.
Back to Colwell
By the church, the path enters a field and crosses back towards the A68. I crossed the road and followed the minor road back to Colwell and the car.
It was a great walk but the heat had tired me out. I sat on the lip of the hatch at the back of the car, changed my shoes and had a last cup of tea, before heading home.
---
Route map
| | |
| --- | --- |
| | Colwell – The start point |
| | Liddell Hall |
| | Hallington Burn |
| | Hallington |
| | Whittle Dene (or Whittledean) Watercourse |
| | Carrier's Lane |
| | Hallington Reservoir |
| | Little Swinburne |
| | Colt Crag Reservoir |
| | Great Swinburne |
---
Download files
Downloads are free. However, if you find these useful, I would be grateful if you could donate something to the Mountain Rescue Teams. Find links to the teams here. If you donate, can you please leave a message in the comments section for this walk, so that I know I'm doing some good.
---
Gallery
---
Walking North England – Anything and everything about walking in Northern England